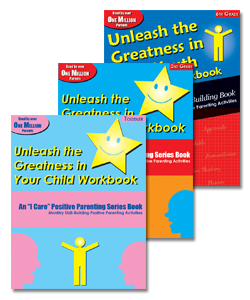 Help Your Parents Discover this JOY of Positive Parenting!
My five-year-old walks around with his Workbook saying, "When is it time for 'I Care'?"
—Feedback From a Parent
Show Parents that You Care! Adore each of them with the Unleash the Greatness in Your Child "I Care" Parenting Workbooks
—a whole year of parenting activities!
The grade-level Toddler through 6th Grade Workbooks come in English and Spanish (Pre-K through 5th). Each month parents will have 7 types of activities (Communication, Role Playing, Table Talk, Writing, Physical, Reading, & Community) to do with their children at home.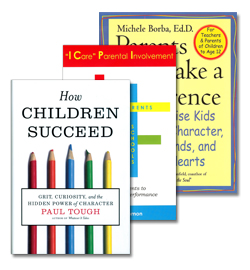 Professional Development Books that Educate & Empower
Knowing the value of parental involvement and character education will empower administrators, teachers, and staff with the knowledge and skills to effectively keep parents involved at school, at home, and in the community.