"What Gets Measured Is What Gets Done"
The impact of "I Care" can be measured online monthly for each student, class, school, and district. "I Care" provides numerical measures for:
Parent Participation
Parent Involvement
Positive Teacher-Parent Contacts
Mastery of Character Traits
Parents Trained
Community Involvement in Character Development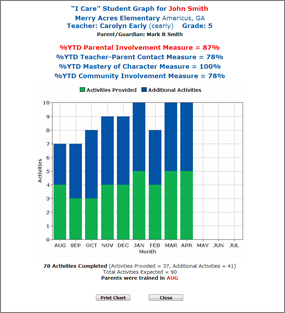 Benefits of Online Measuring System
Monthly reports with numerical measures for parent involvement, parent participation, mastery of character traits, positive teacher-parent contacts, and community involvement in character development.
Enables the correlation of parent engagement to student achievement.
Provides necessary parent engagement documentation for state and federal audits.
Data can be input and accessed online anytime and anywhere.
Data is archived for five years (or longer, upon request).
Above is an example of a Student Chart and below is sample data from a School Report. One of the strengths of "I Care" is the ability to measure the positive interactions parents are having with their children at home.

Schools are recognized each month by the "I Care" company for exemplary, outstanding, excellent, and promising parent participation. (See Recognized Schools.)
Why Choose the "I Care" Parent Engagement Character Curriculum?
Gets & keeps the 80% of parents not involved at school involved with their children at home—changes the perception that parents must be at the school to be involved in the education of their children.
It has the one-and-only parent engagement measuring system that documents, tracks & evaluates positive parent-child interactions at home—data will show where to focus resources, saving loads of time.
Simple to implement + cost effective + online curriculum
Parent-friendly with a monthly school-to-home & home-to-school parent feedback process
Meets & exceeds Every Student Succeeds Act (ESSA) parent involvement requirements
"It's a terrific way to measure parent engagement."

—Principal; Tuba City, Arizona

"The 'I Care' Program has helped me to manage parent engagement better in all my schools. The data each month tells me and the school liaisons where help is needed."

—Parent Coordinator; Lawton, Oklahoma